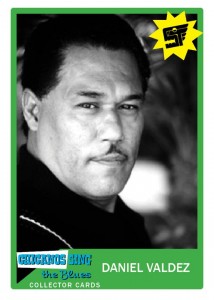 Daniel Valdez is in residence at Su Teatro through fall, 2014 to collaborate with Executive Artistic Director, Tony Garcia and to serve as a mentor and major force in transforming the artistic capacity of the Su Teatro company, thanks to an innovation grant from the Bonfils Stanton Foundation. Daniel is a founding member of El Teatro Campesino, widely recognized as the group that sparked the Cultural Renaissance of the Chicano Civil Rights Movement. Daniel's voice and musical compositions underscored the drama and humor of the farm worker theater that boosted the morale of strikers and illustrated their issues during the California Grape Strikes. El Teatro Campesino's use of popular performance, storytelling, and music made the arts relevant and accessible to an entire generation.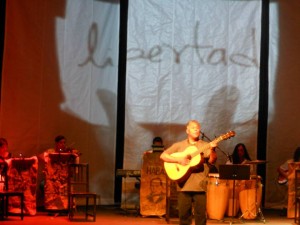 Valdez has worked extensively with Su Teatro: he served as the composer/musical director for  El Sol Que Tu Eres/The Sun that You Are, a 2005 Su Teatro production funded by the NEA and the National Performance Network .  In 2006, Valdez received a commissioning award from the American Composers Forum to collaborate with Garcia to produce The Westside Oratorio, based on histories collected from Denver's Mexican-American Community (he also worked with citizens of Pueblo, Colorado to write and produce an oratorio and his home community of San Juan Bautista). In 2010-2011, Garcia and Valdez collaborated on two new original world premiere plays – Funding from the NEA and NALAC allowed them to collaborate with our local African American theater company, The Source, to produce a Latino adaptation of Lee Breuer's The Gospel at Colonus as part of the 12/13 season.

Valdez is an accomplished, nationally recognized artist. He wrote original music and arranged the classic 1940's Big Band music (and played the lead, Hank Reyna) in the first Chicano play on Broadway, Zoot Suit, and also starred in the film (with Edward James Olmos as El Pachuco). In 1987 Daniel and his brother Luis wrote and produced the feature film, La Bamba, the life story of Richie Valens. Danny had featured roles in the films, The China Syndrome and Born in East L.A., which included his songs for the "Tijuana Conjunto". Valdez's solo album, Mestizo, was the first Chicano album to be issued by a major label. He toured with Linda Ronstadt in her stage production of Canciones de Mi Padre and has worked with Carlos Santana, Jerry Garcia, Ruben Blades, Celia Cruz, and Tito Puente. His status as an icon, combined with his dedication to working with communities on the ground, gives him major impact as an opinion leader, artist and teacher.