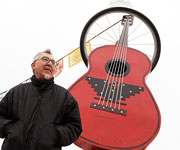 MetroState University of Denver and artist Carlos Fresquez are back for the second phase of the "Surround Mural" at Su Teatro. Fresquez is a well known Chicano artist and educator who has been living and working in Denver for over 30 years. His exhibits are sought nationally and internationally, with displays in Mexico, Colombia, Spain, Slovakia and China to name a few. His art has been placed in permanent exhibits across the country and he is honored locally by Colorado Creative Industries and the Denver Center for Performing Arts. His work includes mixed media, prints, paintings, murals, installations and set design.
The project at Su Teatro, when complete will span more than 400 linear feet across the Denver Civic Theater.  Distinctive collaborations will reflect on each of the four walls of the building.  Quetzalcoatl, the feathered serpent was the first mural painting to go up on the east side of the building by MetroState students and guidance from Fresquez.Back for round two, the students researched the area and developed ideas to the present as visual contributions to their community.  "I am always amazed with the end result at the end of the class. It's wonderful to see the transformation that occurs when you give someone a blank canvas in which to make their own" says the camera shy Fresquez about his artistic protégés. For the next three weeks, these artists will be working hard to complete the mural that has been placed on the North wall of Su Teatro.
Fresquez, his students, and Su Teatro community members will continue to deliberate when assessing the building as a whole and when conceptualizing mural designs for the building's remaining walls.