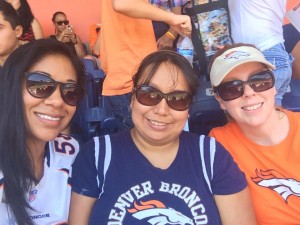 The Los Angeles Theatre Center announces Artistic Fellows for Latino Theatre Encuentro Fellowship
Su Teatro's Organizational Manager Micaela Garcia de Benavidez named recipient
The Los Angeles Theatre Center has partnered with The Andrew W. Mellon Foundation to provide fellowships for the National Theatre Encuentro/National Theatre Festival, in October-November 2014.
The Fellowship was created in response to a need to foster emerging arts leaders who will guide the courses of culturally specific and poly-cultural arts institutions in a country with rapidly shifting demographics.
Micaela Garcia de Benavidez, Su Teatro's Organizational Manager and the Director of the Cultural Arts Education Institute was chosen from a field of more that 50 applicants.
She has been a member of the Su Teatro staff since 2001, and directs the Cultural Arts Education Institute a youth program that delivers in school and after school classes to more than 400 students daily, and exposes more than 5,000 students throughout the state to Latino arts and culture, annually.
Mica is a graduate of Claremont College with a degree is International Studies and received a Masters in Non-Profit Management from Regis University in Denver.
Encuentro 2014, will feature nineteen theatre companies and over 150 artists from around the country. They will converge at Los Angeles Theatre Center to present a month-long festival of theatrical works, with an emphasis on Latino/a perspectives.
Fellows will get hands-on experience with the Encuentro 2014 companies and artists, and contribute their voices and talent to support LATC Encuentro 2014 national convening of of a magnitude that has not occurred in over 25 years.
This rigorous training will equip fellows with the skills necessary for them to become the nation's future Artistic Directors.
They will work in residence at Los Angeles Theatre Center from October 1 through November 21.
The selected fellows include:

• Richard Azudia, Company of Angels, Independent Shakespeare Company;

• Sylvia Blush, South Coast Repertory Theater;

• Arielle Brown, San Francisco Emerging Arts Professionals, Theatre Without Borders, others;

• Mica Garcia be Benavidez, Su Teatro Cultural and Performing Arts Center;

• Adriana Gaviria, Pasadena Playhouse, Arizona Theatre Co., Dallas Theater Center, others;

• Alexandra Meda, Teatro Luna, Latino/a Theatre Commons, National Organization for Women (Chicago);

• David Mendizabal, The Movement Theatre Company, INTAR Theatre, New York Musical Theatre Festival, others;

• Ricky Pak, Cornerstone Theatre Company, Teatro Nueva Alma, hereandnow theatre company, others;

• Kinan Valdez, El Teatro Campesino, UC Santa Cruz;

• Jecamiah Ybañez, Oregon Shakespeare Festival, World Stages Festival, Woolly Mammoth Theatre, others.
Los Angeles Theatre Center and The Andrew W. Mellon Foundation congratulate the Fellows upon their appointment and look forward to their participation in Encuentro 2014.
http://thelatc.org/latc-announces-artistic-fellows-for-its-national-theatre-festival/
MORE ON THE FESTIVAL: http://thelatc.org/encuentro2014/